You are here
Why you should consider the University Campus Residency
Follow our Instagram for program and interview season updates! @UArizonaEM
---

2023-24 Interview Season Update (June 2023)
Our program will be following the recommendations from the Council of Residency Directors in Emergency Medicine.
All interviews will be virtual (including local students and visiting students rotating in our department).
We will limit interviews to the number of interview slots available.
We will allow a minimum of 72 hours after the interview invitation is sent for an applicant to accept or decline prior to releasing the interview slot to another candidate.
We will be hosting virtual meet-and-greet opportunities in the fall.  More details about dates and times will be posted here when the dates are set.
We will host optional in-person second look opportunities for candidates who have interviewed to have the opportunity to visit Tucson, tour our hospital and meet some of our faculty and residents.
If you would like to receive email updates when we make updates to our website and post a schedule of online opportunities, you can use this link to submit a request and we will email you when significant content has been added: Request for email updates
In the meantime, feel free to browse some video virtual tours of our facilities and highlights of our programs that we created for last year's interview season. Check out the "Learn More About the University Campus Program" menu item under "Prospective Residents" for these videos. 
---
A few words from Dr. Fiorello...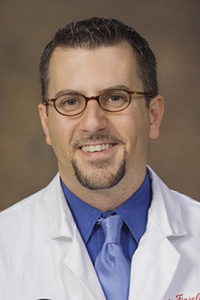 The University of Arizona Department of Emergency Medicine in Tucson, Arizona offers a three-year emergency medicine residency program that combines teaching excellence with clinical training, academic activities and research opportunities.
Residents at the University Campus Emergency Medicine program train in an internationally renowned medical center where Emergency Medicine receives great intra-institutional respect. The Level One trauma center at University Campus has 60 beds, seven major resuscitation suites, a Pediatric Emergency Department and sees over 85,000 patients per year.
UArizona Emergency Medicine and its faculty work to excel in the profession and to execute and promote our department mission, which is to advance health and wellness through outstanding patient care and research while serving as educators and mentors to our residents, fellows and students.
Our program offers a unique Southwest training experience that includes treating a high volume of patients from the Hispanic and Native American cultures, as well as underserved communities and rural and inner-city populations. The curriculum puts a heavy emphasis on Critical Care, point-of-care Emergency Ultrasound and Pediatric Emergency Medicine, while still covering all the core content of Emergency Medicine.
Clinical training includes ride-along time with local EMS agencies including an option for a ride-along time in air ambulances. A dedicated ultrasound rotation during the first year lays the foundation for mastery of point-of-care emergency ultrasound throughout our residents' training. Our residents care for patients with toxic exposures unique to the desert southwest. With fellowships in Emergency Ultrasound, Critical Care, Toxicology, EMS, Medical Simulation and Sports Medicine, our residents have significant exposure to all these Emergency Medicine subspecialties.
Through the University Campus Residency Program, you'll gain insightful academic experiences in emergency surgery and trauma, cardiology, toxicology, orthopedics, obstetrics, anesthesia, medical, surgical, and pediatric critical care.
You will learn from the best: Our faculty are nationally recognized University of Arizona physicians and include experts in Toxicology, Sports Medicine, Pediatrics, EMS, Education, Research, Critical Care, Global Health, Emergency Ultrasound, Simulation, Medical Education and Disaster Preparedness.  Click to see our faculty composite.
Teaching Excellence is at our department's core and with our dedicated efforts to advance the principles and practice of our specialty through original research, we have never been stronger. Our research has led to milestone achievements in prehospital care, cardiac arrest, trauma resuscitation, sepsis, medical education, medical toxicology, emergency bedside ultrasound, wilderness medicine and pediatric emergency medicine. 
We currently rank 19th in the nation for NIH funding and with our established resident research program, ScholarQuest, residents are mentored in original research that will improve the quality of care in and outside of the emergency department.
Our graduates join some of the best emergency medicine groups across the entire country.  Click to see where our graduates are.
We are confident that you will discover that UArizona Emergency Medicine and its University Campus Hospital Residency program will provide you with a unique experience in emergency medicine while training you to be a leader in the field.
See you in the emergency department!

Albert B. Fiorello, MD, RDMS
Associate Professor
University Campus EM Residency Director
Contact Veronica Calderon, Emergency Medicine Academic Affairs Program Manager at veronica@aemrc.arizona.edu, for more information on our University Campus Emergency Medicine Residency Program.