Stay connected to the UA Department of Emergency Medicine through our quarterly department e-newsletter available here or delivered to your preferred email address.
Be a part of our Community of Alumni by filling out our Alumni Update Form to share news about yourself or a fellow UA Emergency Medicine resident or fellow alumnus. We love to hear from you.
Alumni Spotlight
Ramesh Karra: Emergency Medicine in Rural Arizona

The University of Arizona Department of Emergency Medicine South Campus Residency Program gives its residents experience in providing emergency care to diverse and underserved populations. The south campus residency program complements the department's other two residency programs by adding a unique focus on medical Spanish training and rural, border and global emergency medicine.

The residency program currently teams up with several rural Arizona hospitals, including Tuba City Regional Healthcare Corporation, Summit Healthcare Regional Medical Center in Show Low and Sells Indian Hospital to offer emergency medicine residents an opportunity to work in emergency departments in rural areas.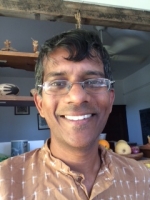 Ramesh Karra, MD, graduated in 2014 from the UA Emergency Medicine South Campus Residency Program. During his training at the UA, he rotated in Tuba City, Show Low and Sells, and until recently, practiced at Tuba City Regional Health Care. In April he joined St. Mary's Hospital in Tucson.

Prior to his residency training in emergency medicine, Dr. Karra was a family medicine physician for 10 years. He is not new to working with Native American populations, previously having worked for the Indian Health Service. Practicing medicine in remote areas also is not new to him, having spent a year after residency in South Sudan working for Doctors without Borders.

As a family medicine practitioner in a rural Arizona, Dr. Karra says he recognized that he needed to be skilled in emergency medicine as well. He said in a rural hospital doctors handle all types of emergencies.

"The wide variety of cases provides a great opportunity for the residents to learn a wide variety of skills," said Dr. Karra.

And he said he finds working in a rural medical center offers a different perspective in the emergency room. "You are it. You are expected to do more. In a city, I would consult with a specialized physician. In a rural hospital, you do it all."
Alumni News

Kevin Gaskin, MD, will become director of ultrasound at the State University of New York (SUNY) Upstate Medical University Emergency Medicine Residency Program starting June 2016. Dr. Gaskin graduated from the UA Department of Emergency Medicine Residency Program South Campus and the UA DEM Ultrasound Fellowship.

The Mitchell Goldman Service Award was presented to Tawni Joy Christensen, MD, in February by the American Academy of Emergency Medicine for her commitment in supporting the AAEM educational mission by teaching at 10 oral board review courses. Dr. Christensen practices in Las Vegas, Nevada.  Dr. Christensen graduated from the UA Department of Emergency Medicine Residency Program University Campus in 1997 and currently practices in Las Vegas, Nevada.

Marathon runnner Autumn Ray, MD, was featured in Smithsonian.com, "Marathoner Sets Out to Run All of America's National Parks," about her goal to run all 59 national parks before she turns 40. She also blogs about her travels at Notes from a Teardrop. Dr. Ray graduated from the UA Department of Emergency Medicine Residency Program University Campus in 2013 and practices in Tucson.