You are here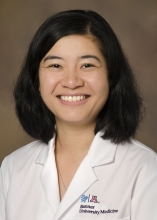 Emergency Ultrasound Core Faculty
Asst. Dean for Student Affairs
Dr. Situ-LaCasse was born and raised in Phoenix, Arizona before moving to Tucson to attend the University of Arizona for her Bachelor of Science in Molecular and Cellular Biology, minoring in Spanish and Portuguese. After coming to Tucson for her undergraduate studies, she never left. She continued onto attending the UA-College of Medicine-Tucson (UACOM-T) and stayed for both Emergency Medicine (EM) residency and Emergency Ultrasound fellowship.
She became faculty at the Department of Emergency Medicine in 2017, with a focus on Emergency Ultrasound education and is a core faculty member of the University Campus EM residency program. In addition to her Emergency Medicine teaching responsibilities, Dr. Situ-LaCasse is also the Intersessions Course Director at the UArizona COM-T and advises EM-bound fourth-year medical students. 
Professional interests include Emergency Ultrasound education and clinical research, medical education, mentorship, and career advising. Outside of work, she loves spending time with her family, eating, cooking, baking, and starting arts and crafts projects with the aspiration of eventually completing them. 
She is a current National Foundation of Emergency Medicine (NFEM) Scholar in the NFEM Scholars and Mentors Program.
Education
Degrees:
BS: 2009, The University of Arizona, Tucson, AZ
MD: 2013, The University of Arizona, Tucson, AZ
Residency:
2016, The University of Arizona, Tucson, AZ
Fellowship:
2017, The University of Arizona, Tucson, AZ
Clinical
Board Certification:
ABEM, Emergency Medicine, 2017
Hospitals:
Banner - University Medical Center Tucson
Banner - University Medical Center South