Message from our Diversity, Equity & Inclusion Champion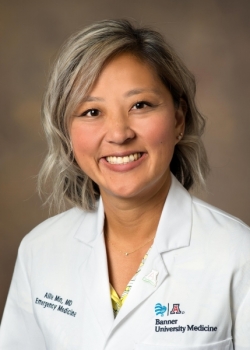 The University of Arizona Department of Emergency Medicine is committed to creating and sustaining a culture of diversity, equity, and inclusion throughout our educational, research, and clinical missions. Diversity and inclusivity are critical to the practice of emergency medicine as we care for and collaborate with people who have various intersections of identity from race, ethnicity, gender, sexual orientation, religion, socioeconomic status, and many other dimensions. We recognize the value and richness added to our education and patient care when our teams consist of individuals from diverse backgrounds and life experiences. We continually strive to be leaders in our equity and inclusion efforts and to ensure that our environment is one in which our faculty, fellows, residents, students, staff, and patients feel safe, empowered, and supported to reach their full potential.
We are privileged to care for the Tucson community and serve the diverse population of Southern Arizona.
Our Diversity, Equity & Inclusion Committee is working on the development and implementation of many initiatives for our department. Please check back for updates on our faculty and staff spotlights, resources, and programs as they develop.
Alice Min Simpkins, MD
Department of Emergency Medicine Diversity, Equity & Inclusion Champion
Associate Professor of Emergency Medicine
Assistant Dean of Faculty Development
The University of Arizona College of Medicine
---
"I am very proud that Dr. Min is leading this effort for the Department of Emergency Medicine!  Our missions and objectives will all be stronger if we embrace Diversity, Equity & Inclusion. We must be especially concerned about differences in all aspects of emergency care, including access to care, based on racial, ethnic and socioeconomic factors."
- Sam Keim, MD, Department Head
---

EM DEI Highlights
Dr. Josie Acuna leads the DEI initiatives at the College level as Co-Chair of the COM-T Faculty Diversity Advisory Committee.
Dr. Rakesh Chopde serves as Media/Communications Director of the Housestaff Diversity Advisory Committee.

Our Diversity, Equity & Inclusion Committee Members
Josie Acuña, MD
Jessica Beauchesne, BS
Jacobo Cabrera-Ramirez, MD (resident)
Rakesh Chopde, MD (resident)
Stefano Correa, MD (resident)
Larry DeLuca, MD
David Horn, MD
Michelle Howe, MD (resident)
Natalia Nakajima, MD (resident)
Art Sanders, MD
Alice Min Simpkins, MD
Anna Waterbrook, MD
Adrienne Yarnish, MD
Upcoming Events and Past Recordings
Reporting Discrimination
Anyone who experiences or is aware of discriminatory conduct is urged to report the concern without delay. The Nondiscrimination and Anti-harassment Policy strictly prohibits retaliation of any kind against an individual based on reporting a discrimination concern or participating in a resulting investigation.
Office of Institutional Equity