You are here
Zack Gibson, DO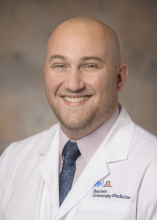 A.T. Still University Kirksville College of Osteopathic Medicine
Program:
University Campus Residency
Where are you from?
Farr West, Utah. Sounds boring, right? 15 minutes from great mountain biking, 20 minutes to the Great Salt Lake, 30 minutes from good skiing, and 35 minutes from catching some great trout.
What are your personal interests/hobbies?
I greatly enjoy hanging out with my wife and daughter. We love to do anything outside. Be it disc golfing, hiking, mountain biking, fishing, or hunting, I can always be found out of doors. I also love to cook and consider myself a decent amateur charcoal griller. Along with food, I also enjoy sampling new beers and whiskeys whenever I can. Lastly, I am a pretty voracious reader. I can be found reading anything from Stephen King and James A. Corey to Carl Sagan and Richard Dawkins.
What are your professional interests?
Emergency Ultrasound, Medical Education, Social Emergency Medicine, Hospice and Palliative Care,
Border Health.
Why did you choose UA EM?
I was looking for a combination of academic and underserved Emergency Medicine. UA fit the bill for both of these. I knew that I would have the opportunity to have an excellent education in ultrasound, airway management, etc. while also being able to have a unique experience in border health and working with Spanish-speaking populations. Additionally, I really connected with the faculty and residents who I met while interviewing and during my second look. I felt that I could get along with many of them and leave with lasting friendships. Lastly, my wife and I really like the landscape, recreational activities, and people of the southwest. Tucson is a unique city in that it is decently sized with lots of amenities while also having a smaller feel with tons of outdoor recreational opportunities.
What's your ideal vacation?
I would love to go to Italy, Mexico, or Honduras to explore historic landmarks and learn about
advanced civilizations that came before ours. Take in the local culture, food and drink while meeting
new and interesting people.
What are your non-medical goals during residency?
Make time to build my relationship with my wife and daughter, continue to learn Spanish, explore all Tucson has to offer and maybe play some good disc golf while I'm at it.