You are here
Tyler Jackson, MD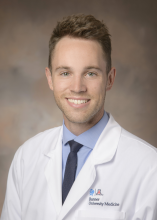 University of Utah School of Medicine
Program:
University Campus Residency
Where are you from?
Born and raised in Salt Lake City, Utah
What are your personal interests/hobbies?
Playing sports of any variety, snowboarding, hiking, camping, watching Fixer Upper for far too long, petting other people's dogs.
What are your professional interests?
Sports Medicine, Event Medicine, Austere/Wilderness Medicine
Why did you choose UA EM?
Having the ability to opt into a "subspecialty track" that aligns with my personal interests is a unique benefit that is not available at most EM programs. This, in addition to the numerous fellowships offered at UA and the vast number of fellowship-trained faculty to serve as potential mentors stood out when finalizing my rank list.
What's your ideal vacation?
Anywhere with a tropical climate and lots of beaches and mountains to enjoy.
What are your non-medical goals during residency?
Immerse myself into the southwest culture, eat all of the amazing food, learn to cook some decent food, be outside as much as possible while trying not to melt, and learn about wild desert critters.