You are here
Ray-Young Tsao, MD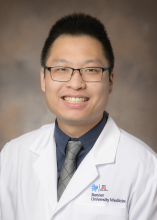 Western Michigan University School of Medicine
Program:
University Campus Residency
Where are you from?
Saratoga, California
What are your personal interests/hobbies?
Exercise, weightlifting, paddling, hiking, team sports, video games, rap and electronic music, live music shows, trying new beers.
What are your professional interests?
Sports Medicine, Global Health, and International Medicine
Why did you choose UA EM?
I did a rotation at UA and was blown away by the residents and faculty. The teaching was exceptional and there's tons of pathology to learn from. There was a real sense of camaraderie throughout the department and the residents were supportive, fun, and genuinely normal. I knew this would be a great place to train, plus it's got great weather, too!
What's your ideal vacation?
It depends. I enjoy traveling to new places and trying all the food, but relaxing vacations/staycations are underrated and I'd never say no to some lounging by the beach.
What are your non-medical goals during residency?
Stay active (keep my belly in check), learn Spanish, find the best tacos and brews in Tucson.