You are here
Paul Crawford, MD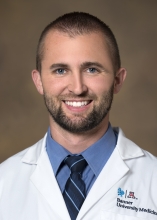 Ohio State University College of Medicine and Public Health
Program:
University Campus Residency
Where are you from?
Richland, Washington.
What are your personal interests/hobbies?
I enjoy weightlifting, backpacking, hiking, fishing, playing and watching all sports, traveling, remodeling/working on our house and most importantly spending time with my wife and our son (and soon our daughter).
What are your professional interests?
Critical Care, ultrasound, wilderness medicine.
Why did you choose UA EM?
UA EM is an all around great program and a great fit for me. I like the critical care emphasis, the awesome people, the great location near the mountains and the great cost of living in Tucson. I couldn't have asked for a better program!
What's your ideal vacation?
Somewhere warm, where I can go to the beach, go hiking and exploring, and eat great food! 
What are your non-medical goals during residency?
Climb a mountain, successfully hunt a wild animal, get a 1300 lbs powerlifting total, spend time with my wife and kids!