You are here
Naomi Onaka, MD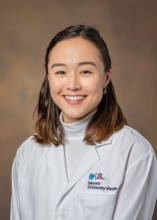 University of Arizona College of Medicine - Phoenix
Program:
University Campus Residency
Where are you from?
Texas originally, but I consider Phoenix home
What are your personal interests/hobbies?
My amazing geriatric chihuahua and puppy-esque cat, hiking, biking, cooking, drinking wine, eating sourdough bread, and gardening. I used to be a competitive figure skater, so skating every once in a while.
What are your professional interests?
Making it through residency! And I love learning ultrasound.
Why did you choose UA EM?
I did a sub-i here and felt like UA encompassed all the best things - supportive faculty, awesome residents, the outdoors (Tucson), and great diversity of patients and training environments with Main and South campus.
What's your ideal vacation?
Hard to choose, but something relaxing and naturally beautiful where you can just get lost in the place and forget about the stresses of your day to day.
What are your non-medical goals during residency?
Traveling, being active, spending time with the important people in my life.