You are here
Mary Buns, MD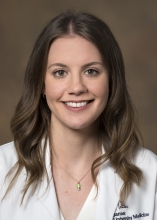 Chicago Medical School at Rosalind Franklin University of Medicine & Science
Program:
University Campus Residency
Where are you from?
Chicago, Illinois.
What are your personal interests/hobbies?
Traveling, trying new restaurants, gardening, cooking, hiking, swimming, baby animals, reggae music, and coffee.
What are your professional interests?
Ultrasound and international medicine.
Why did you choose UA EM?
First and foremost, the wonderful group of residents and attendings that are friendly, down-to-earth, supportive and extremely knowledgeable. When I rotated here as a fourth-year student, everyone was really welcoming and enthusiastic to teach. This program has a great reputation for training amazing EM physicians. Tucson is an awesome city with great people, weather and endless outdoor activities. I had a gut feeling this was the place for me.
What's your ideal vacation?
Exploring a new city, hanging out with locals, bonus would be with beach and sunset views.
What are your non-medical goals during residency?
Learning to speak Spanish, avoiding getting sunburnt, adopt a dog, and developing good work-life balance.