You are here
Martin Cisneroz, MD, MPH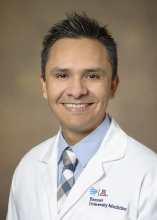 University of Arizona College of Medicine
Program:
University Campus Residency
Where are you from?
Born and raised in Phoenix, AZ, I graduated from Sunnyslope High School and moved to Tucson to attend UA. I've now spent enough time in The Old Pueblo to consider myself a T-Loc lifer.
What are your personal interests/hobbies?
If I'm not on a road trip with my wife and dog, you'll find me either mountain biking the local Tucson cross-country trails, capturing landscape photos, drinking wine in Sonoita, or at a UA sporting event. Bear Down!
What are your professional interests?
Currently, my professional interests include medical education (both undergraduate and GME), out-of-hospital resuscitation, and sports medicine. I did spend a month with the UA ultrasound team and loved it! I also have a background in search and rescue, and I would like to further explore this area while at the UA.
Why did you choose UA EM?
It takes a village to be admitted and to get through medical school. I had so much Tucson support from my family, friends, and amazing mentors in my goal to be an EM doc. Choosing the UA for my residency training was the easiest decision I made as a 4th year medical student. The training is dynamic and robust, the faculty are approachable and sincere, and the UA environment is where I'd like my career to continue to grow.
What's your ideal vacation?
My wife and I built our relationship around epic road trips. I think we would love to try for Glacier National Park hopefully in the next year or two. Of course, my vacations don't need to be as adventurous. I also enjoy a taco, cerveza, and a nice quiet beach in Mexico.
What are your non-medical goals during residency?
First and foremost, I hope to remain a supportive husband, brother, son, and friend during residency. Beyond that, I would really love to learn how to fly fish, dabble in video editing, and attempt to read a book that isn't about medicine.