You are here
Mark Roehr, MD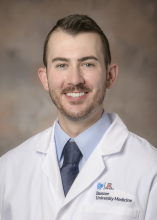 University of Arizona College of Medicine - Phoenix
Program:
University Campus Residency
Where are you from?
Broomfield, Colorado
What are your personal interests/hobbies?
I am a huge sports fan and enjoy playing basketball, working out, and going to games. Also, I love camping, fishing, lounging by a pool, traveling, grilling, and cooking (come try my tacos).
What are your professional interests?
Global Health, Critical Care, Sports Medicine
Why did you choose UA EM?
Entering interview season I wanted a program that truly had a family atmosphere and put a heavy emphasis on education. At the end of my interview day I had zero doubt I had found the perfect fit at UA! I was not only impressed with the reputation, curriculum, and quality of training, but also excited to meet so many outgoing faculty and residents who made their working environment so much fun. Add on a diverse patient population and the amazing landscape of Tucson, and I knew I had found my new home!
What's your ideal vacation?
Either warm weather and a scenic beach, or hiking around some mountains in the snow.
What are your non-medical goals during residency?
Some of my goals include trying every Sonoran dog in Tucson, learning basic Spanish, keeping close with my family, girlfriend, and friends, and maybe buying a house and trying my hand at a little DIY remodeling.