You are here
Jacobo Cabrera-Ramirez, MD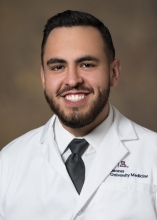 Joan & Sanford I. Weill Medical College of Cornell University
Program:
University Campus Residency
Where are you from?
CDMX by way of Mesa, Arizona.
What are your personal interests/hobbies?
I love traveling and exploring with family and friends, getting outdoors as much as possible, and summer concerts.
What are your professional interests?
Sports medicine, pain medicine, and administration.
Why did you choose UA EM?
I'm from the Phoenix area and I wanted to be closer to home for residency at a solid academic program with a variety of clinical sites.
What's your ideal vacation?
I really enjoy visiting big cities with good outdoor day trips I can check out, and connecting with the locals over their best local stout or porter recommendations.
What are your non-medical goals during residency?
During residency I'd like to continue working on fitness goals, find the best cold brew and tacos in Tucson, craft my own mole sauce, and make it onto the Ellen Show.