You are here
Francisco Canales, MD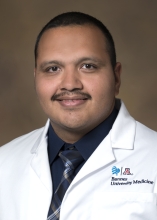 The University of Arizona College of Medicine - Phoenix
Program:
University Campus Residency
Where are you from?
Phoenix, Arizona.
What are your personal interests/hobbies?
I'm all about that zen life. Cooking, gardening, floating in my pool, walking my dogs, hanging out with my wife, and dodging scorpions while lifting weights in my dungeon/garage home gym.
What are your professional interests?
Medical education, ultrasound, toxicology, bioethics. 
Why did you choose UA EM?
I rotated here and quickly noticed that the facilities, faculty, residents, and patient population create an awesome environment for EM training. Also, Tucson is a great city with a unique borderland vibe. 
What's your ideal vacation?
Lounging in Florence, Italy with my wife. Enjoying gelato during morning walks around the Duomo and over Ponte Vecchio. Picking up prosciutto, pancetta, and various other meats, cheeses, and artisan breads from the market to have for lunch. Taking cooking classes, visiting wineries, and enjoying all the awesome Tuscan food. I pretty much want to spend a few weeks walking, eating, walking some more, and then eating some more.
What are your non-medical goals during residency?
To vacation in Florence (and a few other places), expand my cooking repertoire, get swole, become a father, and enjoy life with my wife.