You are here
Eric Lee, MD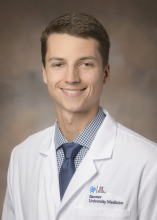 Wright State University Boonshoft School of Medicine
Program:
University Campus Residency
Where are you from?
Cincinnati, Ohio
What are your personal interests/hobbies?
I like to do just about anything that gets my heart rate up: cycling, climbing, mountain biking, triathlon, hiking, going to the gym, sports, etc. I'm a big fan of the outdoors, and doing all of the above with my wife. We also like to help out with our local church.
What are your professional interests?
Disaster Medicine, EMS, Leadership, Critical Care
Why did you choose UA EM?
I wasn't only looking for a well-balanced program with great training, but also for a great community to be around. Right away I could tell the training was high caliber and felt at home with the group of residents/faculty.
What's your ideal vacation?
Somewhere unique doing any of my interests or hobbies (see above). And add tacos and margaritas, of course.
What are your non-medical goals during residency?
Being my first time living in the southwest, I'd really like to explore it as much as possible (by foot, bike, or climb) with my wife and new friends. I also want to get better at Spanish and adopt a pupper.