You are here
Caitlin Gluck, DO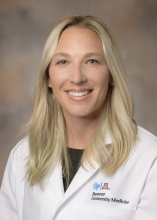 Kansas City University of Medicine & Biosciences College of Osteopathic Medicine
Program:
University Campus Residency
Where are you from?
Tucson, AZ
What are your personal interests/hobbies?
Anything outdoors, hiking, camping, paddle boarding, skiing, horseback riding, I love yoga, sports, beer, sports and beer, being a dog mom.
What are your professional interests?
Critical Care, Wilderness Medicine
Why did you choose UA EM?
The people, there were only good vibes on interview day, to be close to family and some of my oldest friends, easy access to the outdoors, after living in the Midwest I need a break from humidity!
What's your ideal vacation?
Somewhere you can walk or bike to most things with a warm ocean to immerse in and mountains to climb.
What are your non-medical goals during residency?
Laugh as much as I may cry, get to the Grand Canyon, I cant believe I am from AZ and have never been, adventure with my other half and fur babies whenever I can, improve my Spanish, make some life long friends and memories.