You are here
Brittany Arcaris, MD - Chief Resident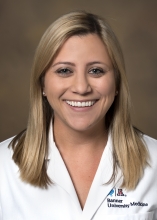 The University of Arizona College of Medicine - Tucson
Program:
University Campus Residency
Where are you from?
Vista, California.
What are your personal interests/hobbies?
Not trying to sound like an EM stereotype, but here it goes: wakeboarding, SUP, backpacking, riding dirt bikes, triathlon, mountain biking, climbing, discovering new microbreweries, coffee, yelling while watching professional sports (mostly NFL and NHL), and petting as many doggos as possible.
What are your professional interests?
Wilderness medicine, medical education, and critical care.
Why did you choose UA EM?
Awesome faculty and residents, tons of great pathology to learn from, easy access to the outdoors, and Tucson's really cool firefighters (my fiance the firefighter made me say that).
What's your ideal vacation?
Really anywhere with a large body of water to get out on.
What are your non-medical goals during residency?
Get good enough on the mountain bike to conquer Lemmon Drop (and not cry), finally learn some Spanish, and as previously mentioned, pet as many dogs as possible.