You are here
Anthony Favaloro, MD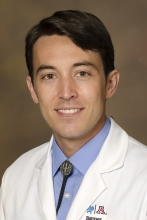 Ross University School of Medicine
Program:
Combined EM and Peds Residency
Where are you from?
New Orleans, LA.
What are your personal interests/hobbies?
Working on my Jeep with my Pops - that one will be on hold for a little while - movies, the idea of reading, involvement in my local church, the obligatory hiking/camping that every UA EM intern will inevitably list.
What are your professional interests?
Pediatric EM, tropical medicine, global health.
Why did you choose UA EM?
After my interview here, I felt I would be challenged in ways I couldn't be in other places - forcing me to become a better physician by putting me outside of my comfort zone (e.g. pushing myself to learn Spanish for the border health opportunities). Also, Tucson presents some excellent outdoor opportunities.
What's your ideal vacation?
Long walks on the beach, moonlit dinners, bubble baths...
What are your non-medical goals during residency?
Become more of an adult - you know... learning how to cook as well as my folks (I'll settle for half as well), doing taxes, cleaning house, all the "fun" stuff.