Five abstracts by the DEM's Sepsis/Infectious Disease Research Collaborative were accepted by the European Society of Intensive Care Medicine Congress held October 5-9 in Paris, France.  
Congratulati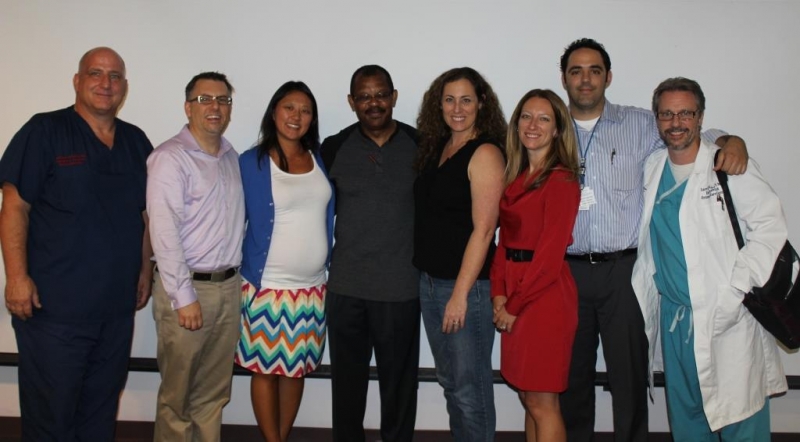 ons to the following faculty, residents and students for your contributions: Kurt Denninghoff, MD; Kristi Grall, MD MHPE; Lisa Stoneking, MD; Amar Vira, MD; John Rosell, MD; Laurel Cox, MS; Brendan Munzer, MD; Alan Williams, MD; Jessica Gonzaga, RN, FNP; Wanda Larson, RN, PhD.
Dr. Lawrence DeLuca, Jr., EdD, MD and PI for the projects, represented the team effort at the Congress.
The following five abstracts were presented:
Development and Assessment of an Integrated Curriculum in Critical Care Procedural Competency and Radiography for Emergency Medicine Residents
Development of a Hospital Credentialing Instrument For Emergency Medicine Physicians Who Have Completed Fellowship Training in Critical Care Medicine
Assessing Feasibility and Compliance with a Ventilator-Associated Pneumonia Bundle in an Academic Emergency Department
Incidence of Ventilator-Associated Pneumonia in Patients Intubated in the Emergency Department
Characterization of the Procalcitonin Response Curve Following Initiation of Extracorporeal Membrane Oxygenation
We are extremely fortunate to have such a talented and ever-growing interdisciplinary group! Congratulations to all on this exceptional accomplishment!