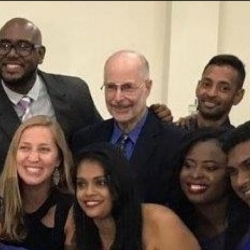 Sadly, I am in the high-risk age and medical condition group, so cannot join you on the frontlines. I returned from Guyana at the end of February. We were assured, although they had no testing, that there were no COVID-19 cases. However, for the last week of my visit, after "syncopizing" in the ED during rounds, I was laid up with classic symptoms. Not fun! A strange part of it was that I was bradycardic and anorexic for about three weeks. 
Of course, shortly after I left Guyana, they had someone die that was diagnosed (postmortem) with COVID-19. My Guyanese colleagues are now pretty stressed out. They have some testing ability and almost no PPE. Quite a few have been quarantined with symptoms. Generally, not a good situation.
So, what have I done since returning? I've been writing about disaster ethics and preparedness. Three papers that should be coming out shortly are:
Iserson KV. Healthcare ethics during a pandemic. West J Emerg Med (In press).
Iserson KV. Augmenting the disaster healthcare workforce. West J Emerg Med (In press).
Iserson KV. Alternative Care Sites. West J Emerg Med (In press).
My plan is to await an IgG test for COVID-19. If I'm positive (i.e., antibodies for the disease), I'll return to clinical work where I can be most useful. In the meantime, besides writing, I've offered to give a periodic ethics seminar to healthcare students/residents. We'll see if there's any interest.
Best wishes to my colleagues on the frontlines. I sincerely wish I was with you.
Kenneth V. Iserson, MD, MBA, FACEP, FAAEM
Fellow, International Federation for Emerg Med
Professor Emeritus, Dept of Emergency Medicine