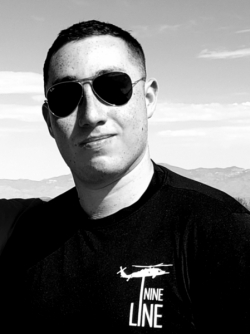 In May, Erik Ceron will be the first student to graduate from the University of Arizona Department of Emergency Medicine Bachelor's Degree Program in Emergency Medical Services.
Ceron started at the University of Arizona as a neuroscience major. During that time, he found his passion for EMS after joining UAEMS, a collegiate EMS agency serving the university campus, and became an emergency medical technician (EMT-B). While continuing his courses at UArizona, he attended Pima Community College (PSESI) to become a firefighter and a nationally certified paramedic. 
When it was announced that the UArizona EMS bachelor's degree program was approved last year and available for registrants, Ceron transitioned his education to focus on EMS and enrolled in the major. His previous coursework in physiology, chemistry, and neuroscience prepared him for the EMS degree, and enabled him to finish the requirements to graduate after two semesters.
"I really loved the program, the smaller classes, and the lectures given by emergency physicians. I felt a more personal connection," Ceron said. 
The undergraduate degree program, which began last fall, is the first offered by a UArizona College of Medicine – Tucson clinical department and the second in the medical school. Enrollment is open to individuals who are current state or national certified paramedics or have completed an associate's degree in paramedic care at a regionally accredited community college or university.
One of a few programs in the nation administered through a clinical department, the EMS major and minor offer students opportunities to be mentored by and learn from UArizona emergency medicine faculty members, fellows and residents who are EMS clinicians and researchers at the cutting edge of EMS care.
Ceron's favorite class was Advanced Prehospital Pediatric Care (EMD 440). When asked why, he said, "I really appreciated having a full semester of the pediatric course as opposed to completing all of my pediatric training in the limited timeframe allotted during a packed paramedic curriculum. It allowed me to spend extra time truly focusing on these complex cases to improve my comfort level." 
For the last several years, Ceron, 22, has been volunteering with the charitable foundation Integrated Community Solutions to Active Violent Events (ICSAVE), teaching the community, educators and other professionals bleeding control, active violence response and CPR. In 2017, he began volunteering at the Sonoita-Elgin Fire District as an EMT, Wildland Firefighter, while he was attending courses and eventually transitioned to a full-time firefighter/paramedic position with the department.
Ceron believes that his degree will help him better serve the Sonoita-Elgin community in his current position at the department as well as enhancing his leadership skills in his volunteer work with ICSAVE. In the future, Ceron says, "I have plans to one day go to medical school."