The Arizona Emergency Medicine Research Center – Tucson was one of 110 sites for a clinical trial on a multicenter randomized trial, the ATACH II, to definitively determine the efficacy of early intensive antihypertensive treatment in patients with intracerebral hemorrhage.
The findings of this study were published in the June 8 issue of the New England Journal of Medicine. The results showed no significant improvement with administering aggressive vs. moderate blood pressure control in patients with intracranial bleeds. 
The tr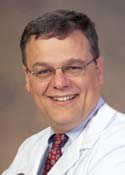 ial was part of the NIH-funded Neurological Emergencies Treatment Trials (NETT) network. This clinical research focuses on traumatic brain injury, spinal cord injury, ischemic and hemorrhagic stroke, seizures, post-cardiac arrest neurological management and other time-sensitive major health problems in the prehospital and hospital settings. AEMRC is one of 22 nationwide NETT hubs.
"Congratulations to our research staff and our neurology colleagues, including Dr. Chelsea Kidwell, who collaborated with us to perform this important NETT trial here at Banner – University Medical Center Tucson," said Kurt Denninghoff, MD, Southwest NETT hub principal investigator.