Highlights included nationally renowned Richard M. Ruddy, MD, as keynote speaker, and Erin Tromble, MD, PGY-V, who received the 2016 Maria C. Mandell Memorial Emergency Medicine Award for best research presentation.
Each year at the UA Department of Emergency Medicine Resident Research Forum, EM residents give oral presentations followed by a question and answer period on research projects they have worked on as part of the department's ScholarQuest program. ScholarQuest provides research training and experience to EM residents, who team up with EM faculty and research staff to develop research projects, submit abstracts to national meetings, and present their work to a panel of local faculty judges at the annual forum.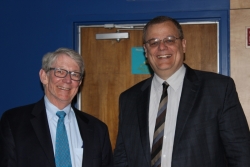 The department was extremely honored to have nationally renowned Richard M. Ruddy, MD, as the keynote speaker at this year's forum held April 26 at the UA College of Medicine – Tucson.  He presented "Pediatric Emergency Research and Quality Initiatives: 15 Years of Work in an Hour." 
Dr. Ruddy is a faculty member at Cincinnati Children's Hospital Medical Center, who until recently was the director of the Division of Emergency Medicine. He has served on the executive committee and as the chair of the American Academy of Pediatrics – Section of Emergency Medicine, as well as on the Board of Health for the City of Cincinnati. He currently serves on the Hamilton County Infant Mortality Board. Dr. Ruddy is the author of numerous papers, abstracts, books, and book chapters, including chapters in the "Textbook of Pediatric Emergency Medicine" and the "Textbook of Pediatric Emergency Procedures." He is the principal investigator for the Hospitals of the Midwest Emergency Research Node for PECARN.
The 2016 forum showcased 12 10-minute presentations and discussions by residents focusing on a range of topics, including outcomes research,

translational research, and clinical research. Erin Tromble, MD, PGY-V, Combined EM and Pediatric Emergency Medicine Residency Program, received the 2016 Maria C. Mandell Memorial Emergency Medicine Award for best presentation for her research, "Time-to-Antibiotics for Critically Ill Patients with Suspected Severe Sepsis Is Significantly Longer for Pediatric Patients than Adults." Her faculty mentor was Jarrod M. Mosier, MD.
"We are very proud of the incredible research achievements our residents. The competition was fierce and there were several very highly regarded presentations.  It is hard to choose every year but this year was particularly difficult.  Well done Erin!," said Kurt Denninghoff, MD, UA distinguished professor and research associate head, Arizona Emergency Medicine Research Center – Tucson.
In addition to Dr. Tromble, the following residents and research projects were presented at the 2016 forum:
"Misclassification of Presumed Cardiac Arrest Cases in a National Cardiac Arrest Registry"
Joseph Bradley, MD, Amber Rice, MD, and Sean Wentworth, MD. Mentor:  Terry Valenzuela, MD, MPH
"Derivation of a Bundle to Improve First Attempt Success at Intubation in the Intensive Care Unit"
Melissa Kelsey, MD. Mentor:  Jarrod Mosier, MD
"The HEAT Study: Hyperventilation and End Tidal CO2 in Traumatic Brain Injury"
Abhishek Kulkarni, MD, Matthew Lopez, MD, and Lindsay Tesar, MD. Mentor:  Joshua Gaither, MD
"Clinical Outcomes for Rural and Urban Patients with Traumatic Brain Injury Requiring Admission to Level 1 vs. Non-Level 1 Trauma Centers in Arizona: An Observational Retrospective Study"
Phillip Hoverstadt, MD, and Benjamin Ruffatto, MD.  Mentors:  Kurt Denninghoff, MD, and Tomas Nuño, PhD
"Evaluation of VL Use in Blood Airway"
Judson Com, MD, and Patrick Hollinger, MD. Mentor:  John C. Sakles, MD
"Emergency Department Recognition of Critical Illness-Related Corticosteroid Insufficiency"
Garrett Pacheco, MD. Mentor:  Jarrod Mosier, MD
"Hypothermia and Traumatic Brain Injury"
Merlin Curry, MD, Sophie Galson, MD, and Moses Mhayamaguru, MD. Mentor:  Joshua Gaither, MD
"Clinical and Historical Features of Emergency Department Patients with Pericardial Effusions"
Elaine Situ-LaCasse, MD. Mentors:  Srikar Adhikari, MD, and Lori Stolz, MD
"Assessment of Musculoskeletal Knowledge Among Emergency Medicine Physicians"
James Fox, MD, Marvin Griffin, MD, and Andrew Keyser, MD. Mentor:  Anna Waterbrook, MD
"What Non-Physician Factors Affect Length of Stay in the ED?"
Christian Smith, MD. Mentor:  Brian Drummond, MD
"Harnessing Helminths to Immunomodulate Autoimmunity"
Sean Murphy, MD. Mentors:  Daniel Beskind, MD, Richard Amini, MD, Kurt Denninghoff, MD, and Marvin Slepian, MD
Click here for additional photos from the Forum.