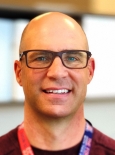 Brett Welander and Jesse Brower, certified emergency paramedics, joined the Department of Emergency Medicine in October to assist the growing EMS Administrative Medical Direction Team in providing medical oversight for local EMS agencies. Both will be working with the team to maintain existing services the department provides for Tucson Fire Department (TFD), as well as implementing new programs.
Currently captains with the Tucson Fire Department, Welander and Brower will:
Assist with oversight of the EMT and paramedic recertification process.
Prepare and develop the core curriculum/continuing education content as approved by the NREMT (National Registry Emergency Medical Technician) standards.
Review EMCT (Emergency Medical Cardiac Technician) documentation pertaining to maintenance of certification.
Prepare and conduct pre-hospital continuing education classes.
Identify any training deficits that would prevent the approval of recertification applications.
Assist with the planning and organization of any skills training or skill competency testing program.

"Jesse and Brett have both spent more than 10 years with TFD in the role of firefighters, paramedics, and captains. Together, they bring value to experience in EMS field operations, prehospital patient care and EMS education to our TFD administrative medical direction team," said Joshua Gaither, MD, UArizona associate professor of emergency medicine. "With the addition of these two individuals to our team, we have the ability to focus on improving outcomes for patients with time-sensitive illness and implementing a focused regional EMS education program."