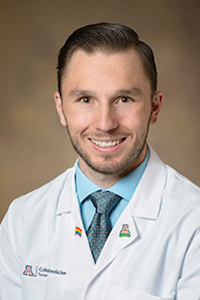 UArizona College of Medicine – Tucson 2021 graduate Joshua B. Calton stayed in Tucson for the five-year Combined Emergency Medicine and Pediatric Residency at the Department of Emergency Medicine. He did his undergraduate studies at UArizona, majoring in physiology after arriving in 2011 from his hometown, Granite Bay, California, near Sacramento, and completed his bachelor's degree in three years. 
Afterward, he worked as a scribe for the UArizona Department of Otolaryngology – Head and Neck Surgery, and as a lab assistant at the Medical Research Building on ear, nose and throat (ENT) studies. In 2018, he did a summer clinical internship for Kaiser Permanente in Oakland, California, which exposed him to the operating room and more lab research on ENT studies. In between, he went on three church missions to Ecuador, teaching children English, coordinating educational and physical activities and organizing youth community outreach. 
At the college, Calton was president of the ENT Interest Group, on leadership for Juniors Active in Wheelchair Sports (JAWS), which works with disabled children, and volunteered regularly with the Tot Shots Clinic, which offers free vaccines, health screenings and sports physicals for kids through the CUP Program. He won a CUP leadership award in 2019 as well as distinction in the Community Service and Global Health tracks. He also was a PCP Scholarship winner but dropped out of the program when he declared for pediatric emergency medicine, since emergency medicine isn't considered primary care.  
"At first, I thought I'd go into pediatric ENT and do cleft palate surgery and global health with different trips," Calton said. "And, as I went through medical school, I gravitated more toward pediatrics. In my fourth year, we finally got emergency room exposure and I really liked that, too. So, when I found there was a dual program that allows you to do both, I was super interested. And, lo and behold, there's only four places in the country where this is offered and one happens to be in Tucson." 
With additional consideration that his wife, a pediatric speech therapist, is from Tucson and they have a 3-month-old at home, he was sold. 
"I'm definitely a Wildcat for Life," Calton added. "Bear down!"