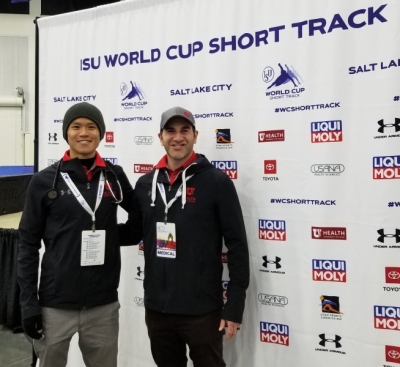 William Denq, MD, clinical assistant professor, is one of the new additions to the UArizona emergency medicine faculty. Dr. Denq (pronounced Den) brings specialized expertise in sports medicine. He also is an active blogger and has created an entire video series on EM ortho splinting on ALiEM. He is active in event medicine, including the University of Utah and U.S. Ski and Snowboard teams.
Where are you from?
I am from the Bay Area in California. My parents are from Taiwan.
Why did you decide to join the UA DEM faculty?
Anna Waterbrook made me aware of a great opportunity here to pursue my professional interests in both Emergency and Sports Medicine. One of my interests is in bolstering our orthopedic/sports medicine education and capabilities in and out of the emergency department.
What got you interested in emergency medicine?
The team effort and comradery in the department is great. I really enjoy working among friends and colleagues to handle the chaos the ED brings. It is constantly challenging and I am constantly learning.
Why did you choose sports medicine as your specialty?
I have always been active and fascinated by the musculoskeletal system. It is often glossed over in medical school, but comprises such a large portion of our body. We see a lot of MSK pathology in the ED and I believe a lot of pain goes unrecognized as MSK pain (e.g. tendinopathy, trigger points). The world of sports medicine is growing – more people are recognizing the benefits of an active lifestyle and our ability to care for them is evolving and expanding.
What are the most meaningful aspects of your work?
Seeing a patient smile and knowing I made a difference.
What is your role for the University of Utah and U.S. Ski and Snowboard teams?
I finished my Sports Medicine fellowship training at the University of Utah and that is where I was able to care for Olympic athletes. We covered events for U.S. Speedskating, U.S. Bobsled and Skeleton, and U.S. Ski and Snowboard. I recently traveled to Beijing, China, with U.S. Ski and Snowboard to cover the 1st World Cup on the 2022 Halfpipe and Slopestyle courses. The next stop will be the Dolomites in Italy as one of their team physicians.
What do you like to do in your free time?
Whether it be at the gym, in the pool, at the tennis court, by a lake, or in the mountains, I like all forms of exercise and activity. Traveling to new cultures and being with friends and family are also important to me. Oh, and food. I'm always in search of good food and how to make it.