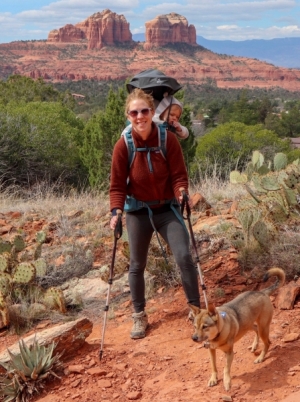 Melody Glenn, MD, clinical assistant professor, completed her undergraduate degree at the UA and medical school at the University of Southern California. She completed an emergency medicine residency and served as chief resident at Maricopa Medical Center in Phoenix. She then completed an EMS and Disaster Medicine Fellowship at the University of California San Francisco. Dr. Glenn has wide-ranging academic interests, including addiction medicine and narrative medicine. She frequently has written on the FemInEM, ALiEM and NAEMSP blogs. Read Dr. Glenn's answers to questions about where she is from, why she joined UArizona, and why she chose EMS and Disaster Medicine as her specialty.
Where are you from?
I'm from Huntsville, Alabama.
Why did you decide to join the UA DEM faculty?
I was offered a position too good to pass up! In my current role, I am able to work clinically with residents, operationally with rural EMS agencies, and academically on various research projects. And I wanted to move back to Tucson.
What got you interested in emergency medicine?
EM allows me to treat anyone and everyone, and the unpredictability is fun.
Why did you choose EMS as your specialty?
I see EMS as the public health side of Emergency Medicine. EMS allows me to develop policies and algorithms that will affect hundreds of people, which is a nice complement to my practice in the ED, where I focus on individual patients. 
What is narrative medicine and how is this used in the practice of emergency medicine?
Narrative medicine means different things to different people. For me, creative writing helps me find meaning in my clinical work.
What are the most meaningful aspects of your work?
Treating patients with dignity and humanity, especially if they are used to facing stigma when in healthcare settings. I think this is why I like addiction medicine so much. 
What do you like to do in your free time?
Reading, writing, biking, hiking, yoga, gardening, sitting outside in the sun (with sunblock!), watching Tiger King.