Dr. Yarnish received undergraduate degrees in biochemistry & molecular biophysics and Spanish language & literature, and her medical doctorate degree from the UArizona.  She completed her residency training at Baystate Medical Center in Springfield, Massachusetts. She has 10 years of community experience in various emergency departments throughout urban and rural Southern Arizona and recently returned to the academic world to complete an Emergency Ultrasound Fellowship at UArizona. Dr. Yarnish's interests include women's health, women in medicine, global health, and anything ultrasound-related. She is joining the faculty as one of the new assistant ultrasound program directors.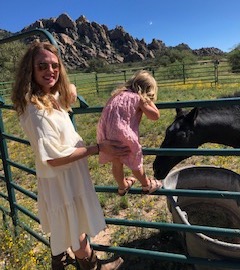 Where are you from?
 I am from Tucson.
Why did you decide to join the UA DEM faculty?
I was offered a position after completion of my ultrasound fellowship. I was thrilled to join the department and have the opportunity to work with a wonderful faculty and new physicians learning emergency medicine and point of care ultrasound. I am a Tucson native and attended the University of Arizona for both undergraduate college and medical school. So, it is very apropos for me to return to UArizona for my career. I'm a proud Wildcat!
What got you interested in emergency medicine?
I was interested in emergency medicine since childhood as my dad was a nurse and in charge of the emergency department in the military. His experiences always interested me. I love the pace, variety, and interesting scenarios and problems we encounter. I appreciate the gift of the opportunity to be with patients when they are at their most vulnerable, having their personal emergencies. I decided I was certain that I wanted to be an emergency medicine physician in middle school and went for it! In high school, I was in a program that allowed me to shadow an emergency physician, which sealed the deal for me. Since then, I have sought out opportunities to be involved in emergency care. Still, emergency medicine is fraught with day-to-day challenges, but in the end, I think everyone who chooses to work in emergency medicine is a hero.
Why did you choose emergency ultrasound as your specialty?
Ultrasound was always an interest of mine. I worked in the community for several years without fellowship training and always wanted to "go back to school" and complete a fellowship. Ultrasound is a powerful bedside tool, using sound to see inside your patient's body and make split-second diagnoses or make changes to management decisions. It is arguably the best tool in an ER docs toolbox.
What are the most meaningful aspects of your work?
So many. I enjoy being in an academic environment where I am constantly learning. I get to work with great residents, fellows, and my immediate co-faculty in the ultrasound group, as well as other faculty colleagues who have other areas of expertise to contribute and whom I can learn from. Having come from the community, I feel that I will have a broader impact by learning up-to-date evidence-based medicine and teaching it to residents and fellows. Ultrasound is changing the practice of medicine, and I feel grateful to be involved in these state-of-the-art innovations and developments.
What do you like to do in your free time?
In my free time, I am a single mother to two amazing 4- and 8-year-old girls and a stepmother to my 17- and 22-year-old young women. I serve on their school's COVID task force now and try to be involved in the Tucson Waldorf School as much as possible. That keeps me pretty busy. I still make time for things that keep me healthy and grounded: running, yoga, swimming, and occasionally cycling and climbing. Last year, I learned to play the piano and enjoy playing regularly. In the pre-COVID era, I also liked to travel locally and internationally. Currently, I also enjoy being involved in the downtown Tucson art community and fostering my friendships in the community at large.