The Department of Emergency Medicine's popular monthly courses for fourth-year medical students attract participants from the College of Medicine as well as from other LCME-approved medical schools around the country.  
Students gain real-world experience about working in the medical intensive care unit (ICU) and in the emergency department by following a patient from the ED to the ICU, allowing for important, hands-on opportunities both at the bedside and in the simulation lab.  
Another course pairs students with attending emergency medicine physicians for an "acting intern" role, where students are given more responsibilities. Unlike other medical schools, the students work side by side with attending physicians, not residents, helping to make the transition to becoming an intern more smoothly.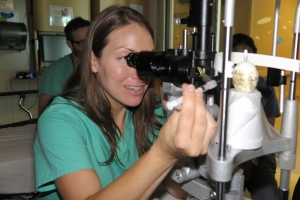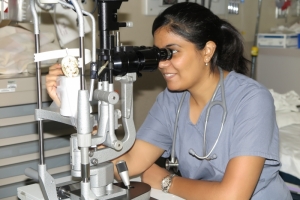 Photos: In the simulation lab, students (Lydia Archuleta, University of Denver, left, and Priya Srihari, Virginia Tech, right) practice slit lamp skills to evaluate eye complaints. Students use the slit lamp, which is much like a microscope, and boiled eggs coated with dirt and pepper, to practice removing foreign bodies from the eye. The slit lamp skills lab was developed by associate professor of emergency medicine, Dr. Kevin Reilly.