First-year emergency Medicine resident, Kubwimana Moses Mhayamaguru, moved from Rwanda to India, the Philippines, Florida and finally to Arizona and the UA, overcoming many roadblocks to achieve his goal of becoming an emergency medicine physician.
He credits his faith and his family's commitment to education for his indefatigable pursuit of a goal that at times seemed unattainable.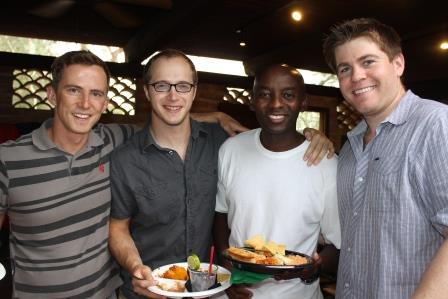 From Rwanda, Mhayamaguru's family, who are Seventh-Day Adventists, relocated to India and lived in a tin sheet house. His father worked seasonally in Norway, selling religious and health books, door-to-door, as both parents worked to complete bachelor degrees. The family eventually moved to the Philippines. There his parents continued on their determined path for higher education both for themselves and their children.
In the Philippines, Moses completed his medical school education and finished a postgraduate medical internship, only to learn that Philippine law prohibited him from doing a residency program. But that didn't stop him for pursuing his health care provider goals.
"While in college, genocide broke out in Rwanda, creating a challenging situation for my family. Because Philippine law bars foreigners from proceeding on to residency, I decided to pursue a doctor-to-nursing bridge program to increase my options," he said.
In the ten years it has taken him to begin his medical residency training at the UA Department of Emergency Medicine, Moses focused on becoming a highly skilled emergency nurse, learning and improving his knowledge, skills, capabilities and expertise in emergency medicine.
He became a licensed paramedic in the state of Florida, nationally certified as an emergency nurse and certified as a flight registered nurse.  Moses is basic life support (BLS) and an advanced cardiac life support (ACLS) instructor, as well.
He credits his experience as a nurse and his training as a physician for giving him a unique insight into the patient experience.
"Being involved in patient care in different capacities throughout my career in health care has helped me understand the patient and teamwork experience because it has always been interesting to hear patients complaining about or complimenting nurses. Then, when my role changed to an ER nurse, I heard similar complaints or compliments about physicians," he said.
"There is one thing that always stood out: whenever the two professions worked in sync along with the paramedics and other health care professions, one didn't need any rocket science statistical data to prove that the patient always appeared more satisfied with the collaborative care experience. Most importantly, since all of the health care team members worked together, outcomes and patient experience always tended to be positive," he said.
Upon going through the resident orientation and joining the UAMC team, Moses said the focus on patient-centered care utilizing the communication tools AIDET and ICare, has resonated with him. "There is nothing more important than a simple introduction to the patient and genuinely caring for the patient. It re-enforced what I witnessed in my experience both in my original internship and as a nurse that patients don't care how much you know, until they know how much you care."
He is impressed with the team atmosphere exhibited at UAMC and at the UA Department of Emergency Medicine. 
"I would define interprofessional education in two words – team work. We are all a team working for one cause and that is to get the patient feeling better. Team work is great medicine, safe for the patient, and at the end of the day, can help reduce health care costs exponentially. I am committed to the pursuit of excellence as an emergency physician and believe that I can contribute to emergency care as a leader in the field."