Samuel M. Keim, MD, MS, has been elected to the board of directors of the American Board of Emergency Medicine (ABEM).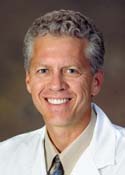 Dr. Keim is professor and chair of the University of Arizona Department of Emergency Medicine, director of the University of Arizona Emergency Medicine Research Center (AEMRC) and professor in the Division of Epidemiology and Biostatistics at the UA Mel and Enid Zuckerman College of Public Health. Dr. Keim practices clinically at Banner – University Medical Center Tucson and Banner – UMC South.
Dr. Keim has been an ABEM volunteer since 1999, having served as an Oral Certification Examination examiner and case reviewer, an item writer for the ConCert™ Examination and a member of the ABEM – American Board of Internal Medicine Critical Care Medicine Task Force. He also has served as president of the National Council of Emergency Medicine Residency Directors and on the residency review committee of the Accreditation Council for Graduate Medical Education.
The ABEM develops and administers the emergency medicine certification examination for physicians who have met the ABEM credentialing requirements. The ABEM board of directors is comprised of volunteer, board-certified, emergency physicians who actively are participating in ABEM Maintenance of Certification, a program of continuous learning and periodic assessment, and are practicing physicians in emergency medicine. The ABEM has more than 31,000 emergency physicians currently certified and is one of 24 member boards of the American Board of Medical Specialties