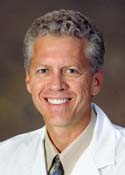 Sam Keim, MD, Tenured Professor and Chair of the University of Arizona Department of Emergency Medicine, has been elected by his peers to serve as Secretary-Treasurer of the American Board of Medical Specialties (ABEM). The individual in that role typically advances to become the President of ABEM within three years.
Three organizations set the standards and approval for physicians from medical school through their entire career is comprised of three major medical organizations:
AAMC - Association of American Medical Colleges - which sets the standards and accredits allopathic Colleges of Medicine 
ACGME - Accreditation Council for Graduate Medical Seduction - which sets the standards and accredits graduate medical education (residencies and fellowships)
ABMS - American Board of Medical Specialties - which approves the standards for certification and re-certification of all medical specialties and subspecialties. 
In the United States, over 85 percent of all physicians are board-certified within the ABMS  structure. For Emergency Medicine, the American Board of Emergency Medicine (ABEM) sets the standards for board certification and re-certification. ABEM has been responsible for Emergency Medicine becoming an approved specialty and creation of the multiple subspecialties within our field.
The Board of Directors of ABEM is comprised of outstanding physicians from around the country who are nominated by their peers and elected by the current ABEM directors to guide Emergency Medicine certification into the future. The ABEM board elects their own executive officers (President, President-elect and Secretary-Treasurer) from among their outstanding membership. The best of the best serve in that capacity.