Lisa R. Stoneking, MD, has been promoted to associate professor of emergency medicine. She joined the department in 2008. She currently services as program director of the University of Arizona Medical Center – South Campus Emergency Medicine Residency Program.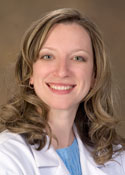 She earned her medical degree from Northeast Ohio Medical University in Rootstown, Ohio, where she received the Excellence in Emergency Medicine Award. During her residency training in emergency medicine at Palmetto Health Richland Hospital in Columbia, South Carolina, she received the Sydney R. Berens Award for Compassion and the Resident Medical Student Teaching Award.
Dr. Stoneking completed a clinician scientist program (two-year mentored faculty development program), at the University of Arizona, as well as the Arizona Clinical Research Training Program and the Academy of Medical Education Scholars/Office of Medical Student Education Teaching Scholars Program. Since 2010, she has participated in the Pediatric Sexual Assault Examiner On-Call program for the Child Advocacy Center in Tucson.
Coauthor of journal articles and abstracts on sepsis research, quality improvement, medical education and healthcare disparities, Dr. Stoneking is a peer reviewer of the Journal of Emergency Medicine and the Journal of Internal and Emergency Medicine. She is a member of the American College of Emergency Physicians, Society for Academic Emergency Medicine and the Emergency Medicine Residents' Association.