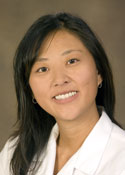 Alice Min Simpkins, MD, associate professor of emergency medicine and associate director of the University Campus Residency, has been appointed Assistant Dean for Faculty Development at the University of Arizona College of Medicine - Tucson after a national search. She graduated from the University of Pittsburgh School of Medicine in 2004 and completed her residency in emergency medicine at the University of Arizona in 2007. She has been on the College of Medicine – Tucson faculty since 2007 and was promoted to associate professor in 2016.
Her experience as a faculty member includes research, teaching and clinical service contributions.  Dr. Min Simpkins previously served as chair of the Dean's Council of Faculty Affairs, playing a key leadership role in bringing faculty issues to the attention of the dean and bringing creative solutions to complex problems. 
She will start in this new position on Jan. 1, 2018, and will be directing faculty development and mentoring programs. Her responsibilities will include directing new faculty orientation, the Learning to Lead program, as well as working with the Women in Academic Medicine group and serving as a liaison with the Dean's Council on Faculty Affairs.