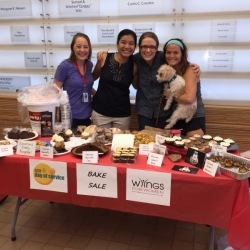 Throughout the month of September, emergency medicine providers choose a day or multiple days to organize opportunities to give back to the community they serve.
UA DEM residents and faculty collected food and hygiene products and held a bake sale to raise funds for the DEM's chosen charity, Wings for Women's "No Hungry Kids Tucson."
"Over the course of the month, the residents of both University and South campuses donated and collected multiple boxes of non-perishable foods and hygiene products for Wings for Women," said DEM resident Elaine H. Situ-LaCasse, MD, PGY-III. "Our bake sale on September 18, where faculty and residents brought in homemade baked goods to sell, brought in almost $600!
Our happy hour event September 30 increased the amount of goods and money donated, which totaled over $1,200!
"Nadia, one of the co-founders of Wings for Women, stopped by the bake sale and said that the money raised by the department will likely go towards buying children gifts this holiday season. We are thrilled to be able to give back to our community."
For information on EM Day of Service, visit www.emra.org/emdayofservice.