Dr. Kenneth V. Iserson, DEM professor emeritus, writes about his experiences as lead physician for the U.S. Antarctic Program at McMurdo Station in Antarctica.

Greetings from the Far South!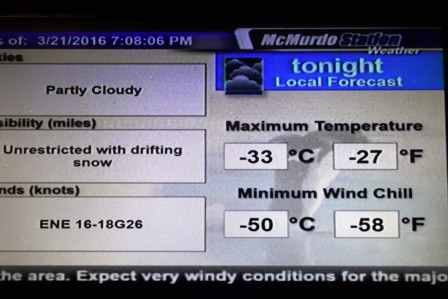 How cold does it get here? I'm not sure what the temps will be in mid-winter, but the wind chill has already dipped to -58ºF here at McMurdo Station. With the ambient temperature at -27ºF, the wind has found a way to cut through nearly all my Extreme Cold Weather (ECW) gear. (Thanks, Dr. John Sullivan, for supplying me with a Cold Avenger balaclava and mask. It's been a lifesaver.)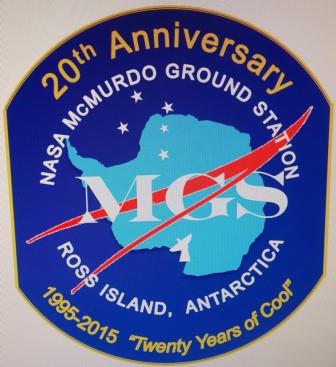 Enough about the weather. With the sun still making an appearance for a few more weeks before it takes its four-month Antarctic holiday, I had the opportunity after clinic hours to visit one of our science facilities, NASA's McMurdo Ground Station, used to track multiple (non-military) satellites.
The tour began in the relatively warm computer center, which looks like data-gathering centers the world over. Next, we drove up to one of the high points overlooking the station to see the "Golf Ball," a geodesic dome that houses a 15-meter dish.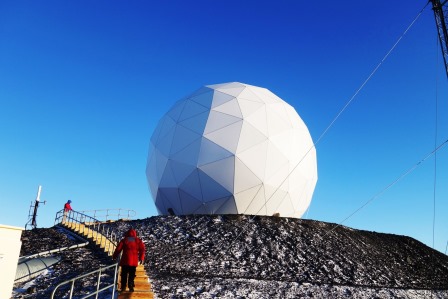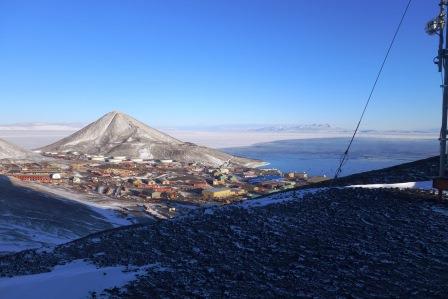 While the view over the town and neighboring Royal Society Mountain Range was impressive, we had to take it in quickly, since there was about -40ºF wind chill. Then we ducked inside the dome and came face-to-face with the enormous dish. This is the busiest dish in NASA's worldwide network, so it was no surprise when it began tracking a satellite soon after we entered. I took an amazing video, but it's too large a file to send, given our bandwidth restrictions. You'll have to look at the photo and imagine it moving.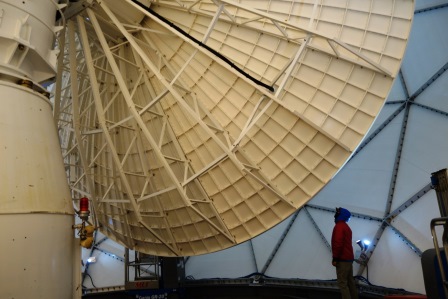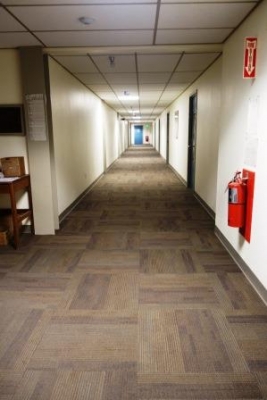 My most exciting personal event to date was my move into my "winter" room at the end of a very long hallway. Of course, it's decorated with Arizona posters and a Southern Arizona Rescue Association sticker. It's a big room, containing one bed, a large wardrobe, arm chair, standing lamp, desk and chair, night table, small shelves (decorated with a colorful sheet), refrigerator, and a digital TV. Not too shabby for digs on a continent where no human should exist.
Lots of folks are very interested in what goes on down here. Last week, I had the opportunity to do a Skype interview with the AMA Wire. Doing that required special permission from the National Science Foundation (which runs McMurdo), since Skype is banned due to its huge bandwidth use and security issues. I gave them a virtual tour around the Medical Clinic/Hospital, and it should eventually appear online.
Otherwise, patients keep appearing, even though our population has dropped to about 180 at our station and another 30 at New Zealand's Scott Base (I'm also their medical provider). Musculoskeletal issues predominate, with a smattering of dental, eye, derm, and GI cases. There have been no crises (yet), but we are busy training our Multi-Casualty Incident (MCI) team in case something severe happens or multiple patients present.
Best wishes from the Ice.
Ken
You can find more articles by Dr. Iserson about practicing emergency medicine in Antarctica in his series "Dispatches from 'The Ice'" published monthly in ACEP Now. Click below to read his articles. 
January: Emergency Physician Embarks on Second Medical Expedition to Antarctica
February: Prepping, Packing Among Challenges of Providing Medical Care in Antarctica
March: Cold Temperatures Greet Emergency Physician Spending Winter in Antarctica