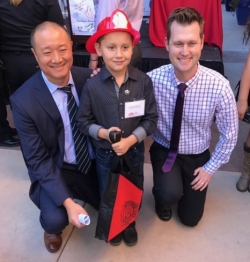 Representatives from Davis Monthan Air Force Base, Tucson Police Department, Northwest Fire, Eloy Police Department and the U.S. Marshal Service Arizona were honored for life-saving acts of bravery and quick-thinking at the 2018 Heroes Day award ceremony Nov. 8 at La Encantada courtyard, 2805 E. Skyline Drive.
Among this year's special honorees was 7-year-old Anthony Castrillo. At a family gathering, Anthony noticed his 2-year-old cousin at the bottom of the pool and quickly dove in and pulled him out. First responders were called to the scene and the boy was given CPR and began breathing on his own when Drexel Heights arrived. He was admitted to Banner – UMC and treated by Department of Emergency Medicine physician Aaron Leetch, MD. The toddler was released just two days later without complications.
Read about all the Heroes Day Honorees 2018.