You are here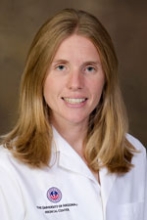 Clinical Assistant Professor
Advanced Emergency Medicine Ultrasonography Faculty
Contact:
PO Box 245057 Tucson AZ 85724
Dr. Baker completed a post-bac pre-medical program at the Johns Hopkins University. She then worked as a ski patroller and wilderness guide before moving to Tucson for her medical education, graduating from the University of Arizona College of Medicine in 2010. Dr. Baker then completed her residency in Emergency Medicine (EM) at the University of Arizona – Tucson Campus, followed by a fellowship in Emergency Ultrasound. She worked for four years in community EM in Tucson and Nogales, AZ before returning to academic EM at the University of Arizona in 2018. She serves as core faculty for the Tucson Campus residency program and is a facilitator for the Clinical Reasoning Course in the College of Medicine. 
Dr. Baker has professional interests in resident and medical student education, wilderness medicine, and Search and Rescue. She has completed a Fellowship in the Academy of Wilderness Medicine (FAWM) and is working on her Diploma in Mountain Medicine (DiMM) through the Wilderness Medical Society. Dr. Baker is the medical director for the local Search and Rescue group (Southern Arizona Rescue Association), where she also serves as a volunteer rescuer. 
Dr. Baker's personal interests include hiking, mountaineering, rock climbing, and mountain biking. She loves living and recreating in Tucson and is an avid University of Arizona basketball fan. Dr. Baker speaks fluent Spanish and enjoys frequent travel to South America. 
Education
Degrees:
MD: 2010, The University of Arizona, Tucson, AZ
Residency:
2013, Emergency Medicine, The University of Arizona
Fellowship:
2014, Emergency Ultrasound, The University of Arizona
Research and Academic Interests and Expertise
2014, Wilderness Medical Society, Fellow of the Academy of Wilderness Medicine (FAWM)
Clinical
Board Certification:
ABEM, Emergency Medicine, 2014
Hospitals:
Banner - University Medical Center Tucson
Banner - University Medical Center South