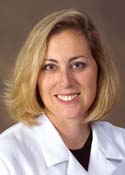 Katherine Hiller, MD, MPH, and collaborators from Johns Hopkins University, University of Washington, and East Carolina University were awarded an Emergency Medicine Foundation (EMF)/Council of Residency Directors (CORD) Research Grant for the study, "A Multi-institutional Online Database for Implementation and Validation of the NCAT-EM: A Consensus-derived Tool for Clinical Assessment of Medical Students in Emergency Medicine."
"This project will assemble a consortium of around 40 sites across the country who will implement the National Clinical Assessment Tool in Emergency Medicine (NCAT-EM), which we created at the national Clerkship Directors in Emergency Medicine (CDEM) consensus conference last year at CORD, for end-of-shift assessment of medical students in the ED," said Dr. Hiller, professor of emergency medicine and director for Undergraduate Education for the UA Department of Emergency Medicine.
Clinical assessment of medical students in the Emergency Department (ED) is a highly variable process that relies on institution-specific tools of unproven validity and reliability. They are translated into final clerkship grades and standardized letters of evaluation (SLOEs) that have impact beyond the institution level. Variability in assessment impedes comparison of students across sites and sets unclear expectations for student achievement, thus the development of NCAT-EM to standardize assessment practices and tools to benefit students and educators.
Dr. Hiller's research will look at the feasibility, reliability and validity of the new assessment tool, which is the first of its kind. "All the assessment data from these sites will be input into a confidential web-based portal so that we can analyze how the tool performed across the country in different types of clinical and educational sites. We anticipate there will be more than 2,000 students for whom we're able to capture data. Importantly, this grant will allow us to set up infrastructure on which we can rely to initiate even more high quality educational research in the future. Very exciting stuff!"
Research collaborators are:
Julianna Jung, MD, MPH, associate professor of emergency medicine, Johns Hopkins University
Doug Franzen, MD, MEd, assistant professor of emergency medicine, University of Washington
Luan Lawson, MD, MAEd, associate professor of emergency medicine, East Carolina University
Teresa Johnson, PhD, Office of Assessment and Evaluation, Johns Hopkins University
The Emergency Medicine Foundation (EMF) provides education and research opportunities in the field of emergency medicine in order to improve the availability and quality of emergency medical treatment. The EMF/Council of Residency Directors (CORD) Research Grant promotes projects that seeks to study a medical education topic that has direct relevance to the specialty of emergency medicine. Applicants may apply for up to a total of $25,000 for a one-year period.