Banner – University Medicine held a welcome reception for faculty at Aloft Tucson University Hotel March 12. Several physicians were selected for "Endless Possibilities" Awards for their spirit of collaboration and leadership.
The "Endless Possibilities" awards come from the practices outlined in the book, "The Art of Possibility." The overall award was "Stepping into a universe of possibility," with a quote on the award certificate, "In the measurement world, you set a goal and strive for it. In the universe of possibility, you set a context and let life unfold." The leader award was "Leading from any chair," with the quote, "A leader does not need a podium, she can be sitting quietly on the edge of any chair, listening passionately and with commitment, fully prepared to take up the baton."
Congratulations to Dr. Jarrod Mosier, who received the Endless Possibilities Award, and Dr. Lisa Chan, who was chosen for the Endless Possibilities Leader Award.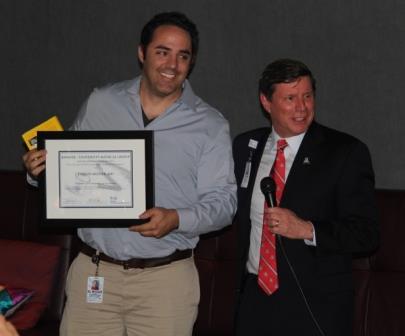 Department of Emergency Medicine Chair Dr. Sam Keim's nominations for Drs. Mosier and Chan:
- Endless Possibilities Award: I'm nominating Dr. Jarrod Mosier. Dr. Mosier is assistant professor of Emergency Medicine and Critical Care Medicine in the Division of Pulmonary, Critical Care and Sleep Medicine, Department of Medicine. He is a phenomenal clinician, teacher and emerging physician-scientist. A true triple threat! 
- Endless Possibilities Leader Award: I am nominating Dr. Lisa Chan.  Dr. Chan is professor of Emergency Medicine, who has distinguished herself as a true leader in our department. In addition to serving as a prior clinical director and associate residency director, she has now become a leader in clinical informatics. Clinical informatics is now an approved subspecialty and last year, Dr. Chan became one of the first physicians in America to become board-certified in clinical informatics. She now directs the new Fellowship in Clinical Informatics in the Department of Emergency Medicine.