You are here
Shadd Cabalatungan, MD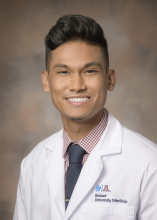 Stony Brook University Health Sciences Center School of Medicine
Program:
Combined EM and Peds Residency
Where are you from?
I grew up in Los Angeles in the city of Torrance. Later, ventured to Northern California for college, and then decided I wanted to explore outside of my home state. I eventually found myself on the East Coast for medical school.
What are your personal interests/hobbies?
Depends on where I am! In California I enjoyed going to the beach with friends to play spikeball or frisbee. In NY, I was introduced to Broadway shows and the city night life. In Arizona, I'm excited to do more outdoor things with my co‐residents, such as try out biking trails and climbing.
What are your professional interests?
Pediatric Emergency Medicine, EMS, Clinical Research & Teaching
Why did you choose UA EM?
The UA offers the best Combined EM‐PEDS Residency in the country! I also did an away rotation here and loved the residents and the faculty I worked with. The PDs in both categorical programs are excellent as well as Dr. Leetch, and I felt well-supported in my career goals.
What's your ideal vacation?
Exploring the islands in Hawaii
What are your non-medical goals during residency?
It has been my dream for the longest time to raise a golden retriever pup and teach her how to catch a frisbee. Also looking to pick up basic Spanish during residency.