You are here
Rakesh Chopde, MD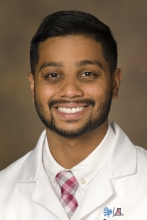 St. George's University School of Medicine
Program:
Combined EM and Peds Residency
Where are you from?
Burtonsville, MD.
What are your personal interests/hobbies?
I consider myself a homebody, so first and foremost, napping. But, I like to cook, watch some Netflix, have game nights, and spend time with family and friends. I'm also into the foodie scene, so I'm excited to explore the culinary options Tucson has to offer.
What are your professional interests?
I am very interested in medical student education and teaching. One day, I hope to become a program director and stay in the academic setting, while still being involved in patient care. Also, coming from a medical school in Grenada, I have become more interested in international and travel medicine.
Why did you choose UA EM?
The people. Plain and simple. Everyone I met during my interview was kind, friendly, and interested. I knew this was the type of nurturing and collaborative environment I wanted to train in. Also, a major pull was having that small-town feel, while still maintaining the big town amenities. I didn't realize how much there is to do in Tucson! There's something for everyone. Although it's on the opposite coast, I had that "gut feeling" from the second I stepped off the plane until I stepped back on. That's why it was pushed to my number 1 spot.
What's your ideal vacation?
I enjoy vacations where I just sit back and relax. So, I think my ideal vacation would be at an all-inclusive resort or a cruise to a tropical location with the people I love. It's more about the company versus the destination.
What are your non-medical goals during residency?
Over the course of my time in Tucson, I want to become fluent in Spanish. Also, I want to become more of an outdoors person. I don't really do much exploring in nature, but I hope over my 5 years in Arizona, I'll be the next Bear Grylls.