You are here
Nicolas Enriquez, MD - Chief Resident AY 2018-2019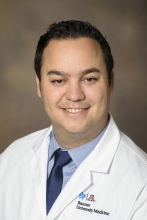 Drexel University College of Medicine
Program:
University Campus Residency
Where are you from?
Born in the Bay area, grew up in Tucson and spent the last few years in Philly.
What are your personal interests/hobbies?
I love to travel - I've been to 6 of the 7 continents and hope to be able to eventually say I have been to them all. Since med school limited my traveling ability, I picked up home brewing and am a huge fan of IPAs and pale ales. I also love most things outdoors and am glad to be back in a place where I can go out and explore. Snow is for skiing or snowboarding, not walking to work!
What are your professional interests?
I'm interested in International Medicine and disaster relief. I currently don't know where I will be in my career in 10 years but we shall see where residency takes me.
Why did you choose UA EM?
Many reasons, the least of which is I wanted to come back home. I really like that UA offers the unique ability to work in both a county hospital and a big academic center. I think these types of experiences in residency are invaluable to exploring your future career goals.
Favorite activity in Tucson?
Nothing like enjoying an ice cold beer while watching an Arizona sunset. Trust me, I have seen many and nothing comes close. Also Mexican food on every corner-can it get any better?
What are your non-medical goals during residency?
I want to ride the Tour de Tucson again, make some crazy homebrew concoctions, and make great memories with new friends.