You are here
Jonathan Coss, MD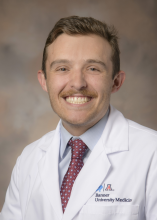 Indiana University School of Medicine
Program:
Combined EM and Peds Residency
Where are you from?
I was born and raised as a Hoosier from Indiana! I grew up just north of Indianapolis in Carmel, IN. I completed both my undergrad and medical school at Indiana University and Indiana University School of Medicine.
What are your personal interests/hobbies?
The basics definitely include quality time with family and friends – trying new restaurants, coffee shops, and breweries. I unwind and reset by being active – I've gotten into the triathlon and ultramarathon scene and have really enjoyed it!
What are your professional interests?
Besides Pediatrics and Emergency Medicine I'm very interested in wellness, leadership/administration, quality improvement, as well as Sports Medicine.
Why did you choose UA EM?
I was so fortunate to be able to do the "EMD 845: Emergency Medicine and Critical Care" away rotation during the summer of my fourth year of medical school. I immediately connected with people in the program and institution. I felt welcomed and challenged at the same time. It was by far my favorite rotation of medical school! I loved spending time in both the adult and pediatric emergency departments as well as the PICU. Being able to have a first-hand experience showed me how special this program, the people, and the city are. I was confident and knew I would have ample opportunity to fulfill both my professional and personal goals by being a part of this program!
What's your ideal vacation?
I love going to new places. So anywhere new, where I would be able to do something outdoors, try new foods and experiences, and broaden my perspective.
What are your non-medical goals during residency?
Being from the Midwest, I'm thrilled with the opportunity to explore this part of the country. In my time off I plan to sign up for more triathlons and races. Additionally, I am so excited to explore all of what Tucson has to offer with the extensive outdoor opportunities, foods, and breweries. On top of this, I hope to grow upon the friendships and relationships I've made with my new colleagues!