You are here
Jennifer Dale, MD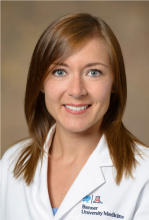 Indiana University School of Medicine
Where are you from?
Kokomo, Indiana
What are your personal interests/hobbies?
Dogs, reading, watching movies, eating, sleeping, playing any sport: basketball, volleyball, soccer, running..literally anything!
What are your professional interests?
Critical care, Academic Medicine
Why did you choose UA EM?
The residents were very welcoming to me on my away rotation, and they were so passionate about the program. It was hard for me not to be excited about coming here! Also, the program director, Dr. Stoneking, really impressed me about how much she advocates for the residents.
What do you enjoy doing in Tucson or what attracted you besides the residency program?
Spending time with my boyfriend, Mexican food, sunshine pretty much every day, hiking (we don't have mountains in Indiana!)
What are your non-medical goals during residency?
Better my Spanish speaking skillz, avoid getting poked by cacti, see a wild javelina!