You are here
Eric Kersjes, MD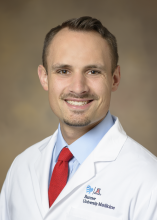 University of Michigan Medical School
Program:
Combined EM and Peds Residency
Where are you from?
Grand Rapids, MI
What are your personal interests/hobbies?
Traveling, going to concerts (EDM, country, and rock are my favorites, but I like anything), cooking, trying new beer, trying to be a handyman, and just kickin' it with the crew. I also like anything outdoors and active, so I'm hoping I can pick up some new hobbies living in Arizona.
What are your professional interests?
Peds EM and Critical Care
Why did you choose UA EM?
Mostly for the unique opportunities that I'll have training in the combined EM & Peds program with the Tucson patient population. But I was also looking to move somewhere outside of Michigan for the first time, and Arizona offers so many activities and new experiences that'll give a great work-life balance.
What's your ideal vacation?
Going somewhere I've never been before and learning as much as I can about the local culture. I'd go with my close friends and it would include many outdoor activities, eating and drinking. In medical school I was able to visit Thailand, Colombia, Peru, the Netherlands, and Croatia. Next up, Japan or Argentina!
What are your non-medical goals during residency?
This is my first time living outside of Michigan, so I want to learn as much as I can about Arizona and the Southwest and do as many new things as possible.