You are here
Delaney Fisher, DO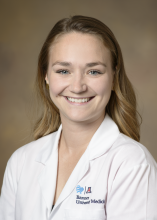 Pacific Northwest University of Health Sciences College of Osteopathic Medicine
Program:
Combined EM and Peds Residency
Where are you from?
I grew up in Alaska, but my family moved to Winthrop, WA almost 15 years ago.
What are your personal interests/hobbies?
Spending time with my family and friends, camping and river floating, volleyball and tennis, listening to music and true crime podcasts, cooking and baking, board games and escape rooms, good movies and better naps. I also love to clean and organize. In fact, if I had not gone to medical school, I would be helping hoarders organize their homes.
What are your professional interests?
Emergency Medicine, Pediatrics, International Medicine
Why did you choose UA EM?
When I auditioned here during my last year of medical school, the residents and faculty were all incredibly warm, welcoming, and funny. They made me feel comfortable and created a safe environment for me to learn, ask questions, and make mistakes. In comparison to other programs I interviewed at, the people at UofA are truly unbeatable.
What's your ideal vacation?
Hanging out with my family, preferably somewhere warm.
What are your non-medical goals during residency?
I have a minor in Spanish but can barely speak the language, so I hope to leave residency medically bilingual.