You are here
Chris Eppich, DO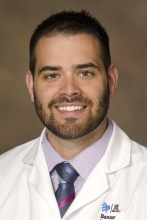 A.T. Still University of Health Sciences-Kirksville College of Osteopathic Medicine
Program:
University Campus Residency
Where are you from?
Alpine, Utah.
What are your personal interests/hobbies?
I really enjoy backpacking, hiking, and doing anything outside! I have two small children and they limit my range and ability to get out, but I still like to take them out on short outings. I love spending time with my wife and kids and binge-watching TV shows and movies.
What are your professional interests?
Critical care and wilderness medicine.
Why did you choose UA EM?
I was looking for a program with an emphasis on critical care that had great faculty and happy residents. Plus Tucson had everything we were looking for to raise our family.
What's your ideal vacation?
I would love to tour the United Kingdom, though I wouldn't mind vacationing at almost any beach.
What are your non-medical goals during residency?
I just bought a new grill and want to be able cook the perfect steak, but I really hope it doesn't take all 3 years to perfect this. I also want to fully explore everything Tucson has to offer, from all its trails to its awesome restaurants.