You are here
Ashley Ealey, MD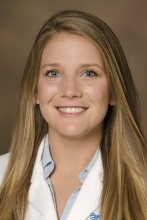 The University of Arizona College of Medicine
Where are you from?
San Diego, but I've been here long enough that I'm pretty much a T-town native.
What are your personal interests/hobbies?
Depends on the season! Winter is for backyard fires and sleeping in as late as possible. In Spring, the fish is on. Summer is designated for finding places to cool off (either up north or on the water). Fall is camping and hunting season. 
What are your professional interests?
Ultrasound and rural EM.
Why did you choose UA EM?
There are so many reasons but I think the top one would be the people. Everyone here is funny, smart, kind, and down-to-earth… these are the people I want to be surrounded by on my best and worst days. 
What's your ideal vacation?
On a hot, sunny beach with warm water, cheap beer, and nothing I have to do (the Mexican beaches are just a 4-hour drive away…)
What are your non-medical goals during residency?
I really want to sharpen up my Spanish and hike the Grand Canyon to Havasupai.