You are here
Alex Barbosa, MD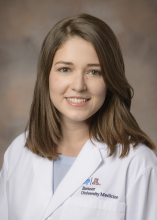 University of Arizona College of Medicine
Program:
Combined EM and Peds Residency
Where are you from?
Phoenix, Arizona
What are your personal interests/hobbies?
Swimming, running, spending time with my family and my two Great Danes. I love reading and watching movies (good and bad ones) with friends when I have time.
What are your professional interests?
I'm interested in working as an Emergency Medicine Physician and Pediatric Hospitalist. I am also interested in International Medicine and Medical Education.
Why did you choose UA EM?
Beyond the opportunity to train in the combined EM‐Peds program, I was looking for a program where I felt supported by awesome people. During my time as a student at UA, I felt supported by the faculty and residents and was looking to continue that in residency.
What's your ideal vacation?
Going camping with my family.
What are your non-medical goals during residency?
Do a short rafting trip in the Grand Canyon and continue to explore Arizona.